About John Kontakis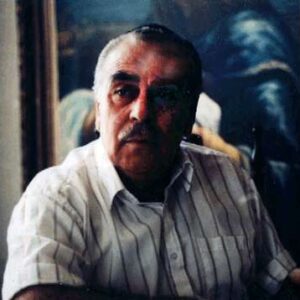 Hailing from the small town of Palaiochora on the Island of Crete, John Kontakis was born in a big family of seven siblings in 1925. He was a completely self-taught artist, whose work nestled mostly on the experiences and observations he made throughout his life. He used multiple techniques as a mode of expression, including oil on canvas, pencil, and pastel. His father and grandfather were carpenters, so Kontakis learned a lot about woodwork from an early age. That gave birth to his creative skills and artistic concepts, which further developed once he started painting as a teenager.
Though his creative process came to a brutal halt due to World War II, Kontakis held on to his creative whims and resumed his art after the war. He portrayed the devastation of war in some of his paintings but mostly focused on the breathtaking scenery he enjoyed on the island and the people in his small town. All in all, he was passionate about capturing the beauty of everyday life in general.
Through his art, Kontakis found and later married the love of his life in 1957 and was blessed with two beautiful children. He migrated to Chicago in 1970 and moved to NYC in 1972, where he settled with his family and continued making art and contributing to society.
Kontakis received various awards and recognitions for his art and efforts, including a certificate of merit for the development and promotion of educational and cultural programs and a certificate of appreciation for dedicated service and loyal support by the Pancretan Association of America. He also received an award in recognition of outstanding artwork and service to the success of their organization by Omonoia Cretans Association of New York.
Seven of his paintings were displayed on the walls of the same Omonoia Cretans Association. Most of them were tragically lost in a fire in the '80s, but some paintings survived and are still displayed at a display area, called the Associations Museum, constructed by the facility after it was rebuilt.
Kontakis work focused on the realistic interpretation of people, scenery, and life by using expressive elements of colors. His artworks showcase his mastery over colors, compositional elements skills, and an innate sense of rhythm. His paintings appear as visual poetry, narrating untold stories with relentless spirited expression. Even without any training in art and mediums, Kontakis developed his own inimitable style and visual story-telling technique. His artwork encourages viewers to experience life with a compelling and expansive perspective through his magical and fluid color movements on canvas.
Kontakis preferred to donate his work to cultural and art communities instead of selling or exhibiting it. He was a true artist who focused on making his subject come alive in his paintings rather than on gaining recognition. However, he did sell some of his work to different parts of the US, Greece, and other countries
Aside from being an artist, he also worked as a carpenter and an antique restorer. He had a unique way of combining furniture carpentry with art. Eventually, Kontakis started working for numerous people throughout New York City, refurbishing antique furniture by combining woodwork and his art to completely change the look of the furniture, turning it into a modern piece that still held on to its antique nature. He was a master of French polish by hand and would work his magic in any type of furniture, completely transforming it into a stunning piece of art.
Kontakis was highly respected and loved due to his kind-hearted nature and brilliant art. He was famous for working towards the art and culture development of the community through his artwork. His donated paintings are proudly displayed in these social clubs and community centers, including the Town Hall of Chania of the Island of Crete, to this day.