About Rahul Kamble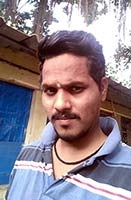 Rahul Kamble borm 1986 in the country of India.
Rahul has a variety of strong interests to include Animation, Photography, Creative Design, Landscape, Calligraphy, Holy-boll, Painting, Sketching, and Reading. A highly skilled artist with many interests that intertwine with one another. He speaks Marathi, Hindi and English - In addition he has taught art in schools.
Just by looking at the creativity of his work shows the in-depth messaging and thought it conveys along with a strong visual appeal. Rahul loves a challenge!