About Thomas Kinkade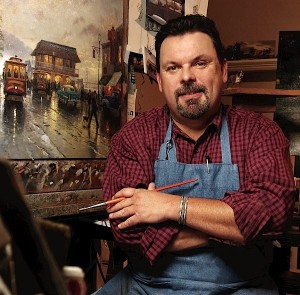 THE PAINTER OF LIGHT
In the beginning, Thomas Kinkade put his entire life savings into the printing of his first printed lithograph. Yes, he was already an acclaimed illustrator, Thomas found that he was inspired not by fame and fortune, but by the simple act of painting straight from the heart, putting on canvas the natural wonders and images that moved him the most. It was this dedication and singular-mind and focus on the ultimate goal of light that made Thomas Kinkade, simply boy with a brush from the small country town of Placerville, California the most-collected living artist of his time.
Throughout his life Thomas Kinkade shared his joy and used his paints in support of hospitals, schools, and humanitarian relief. Though the recipient of countless awards and honors, it was Thomas's profound sense of purpose that his art was not just an accessory, but also a ministry, that continues on as his legacy.
From custom images that were sold for The Salvation Army, Hurricane Katrina relief, Rotary International, to donations that now grace the halls of St. Jude's Children's Research Hospital, the White House, The Vatican, and Britain's Tate Museum, Thomas actually raised hundreds of thousands of dollars over his lifetime for charity.